Welcome to Bressler Vineyards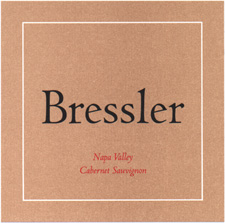 Welcome to Bressler Vineyards, Napa Valley. We are a very small producer of super-premium Napa Valley Cabernet Sauvignon.
Because our current production is so small - under 500 cases of estate wine yearly, sourced exclusively from our family vineyard on the west side of St. Helena - most of our production is sold to members of our mailing list. If you would like the opportunity to purchase wine, we invite you to join our mailing list now.
---
Latest News: The 2010 Bressler is now released! If you did not get an offer letter, please let me know.
Mia Klein's tasting notes:
Aromas and flavors include framboise, ripe black plums and cherries, dark chocolate truffles dusted with cocoa, light caramel, and vanilla bean, with a slight smoked minerality. The tannins are ripe, big and chewy with plenty of concentrated, ripe flavors to support them. Wonderful intensity from initial impact all the way through to long finish. Not difficult to enjoy right now but loads of potential for development in the bottle. The blend for this wine is 84% Cabernet Sauvignon, 10% Merlot, 5% Cabernet Franc, and 1% Petit Verdot.