Welcome to Bressler Vineyards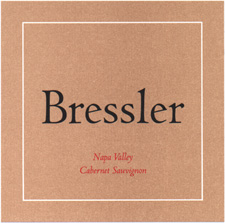 Welcome to Bressler Vineyards, Napa Valley. We are a very small producer of super-premium Napa Valley Cabernet Sauvignon.
Because our current production is so small - under 500 cases of estate wine yearly, sourced exclusively from our family vineyard on the west side of St. Helena - most of our production is sold to members of our mailing list. If you would like the opportunity to purchase wine, we invite you to join our mailing list now.
---
Latest News: The 2010 Bressler is now sold out. THe next release will be in January 2015.
Unfortunately, we did suffer some loses in the recent earthquake. We lost 3 barrels (around 75 cases) of the 2012 Bressler and 5 barrels of the 2013. Fortunately, no one injured.